Dexter Beef.
The average short legged animal will produce around 250lbs of meat back for your freezer, and the non short will average around 300lbs.
This will of course vary depending on the quality of the dam and sire, there is a lot of variation in the breed and I am basing these figures on the cattle I produce myself as I have concentrated on producing animals with a good conformation with an ability to produce a good supply of milk.
My cattle are slaughtered at between 24-29 months at my local abattoir and then taken to my butcher to be hung for two weeks before being made into box selections.
Boxes are made up of a selection of joints, steaks, mince, casserole cuts and depending on the time of year either sausages or beef burgers.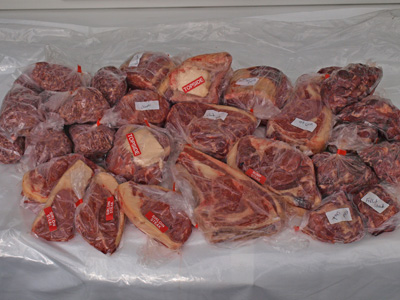 The meat is already packed and labelled to go straight into your freezer.
The average box will weigh around 44lbs (20 kilos) Smaller boxes may be available if requested.
We can currently only supply locally, however we may be able to put you in touch with a supplier if you are out of our area.
Please contact us either by phone on 01653 668318 or .